TokenUnlocks PRO - 🔓 Soon 👀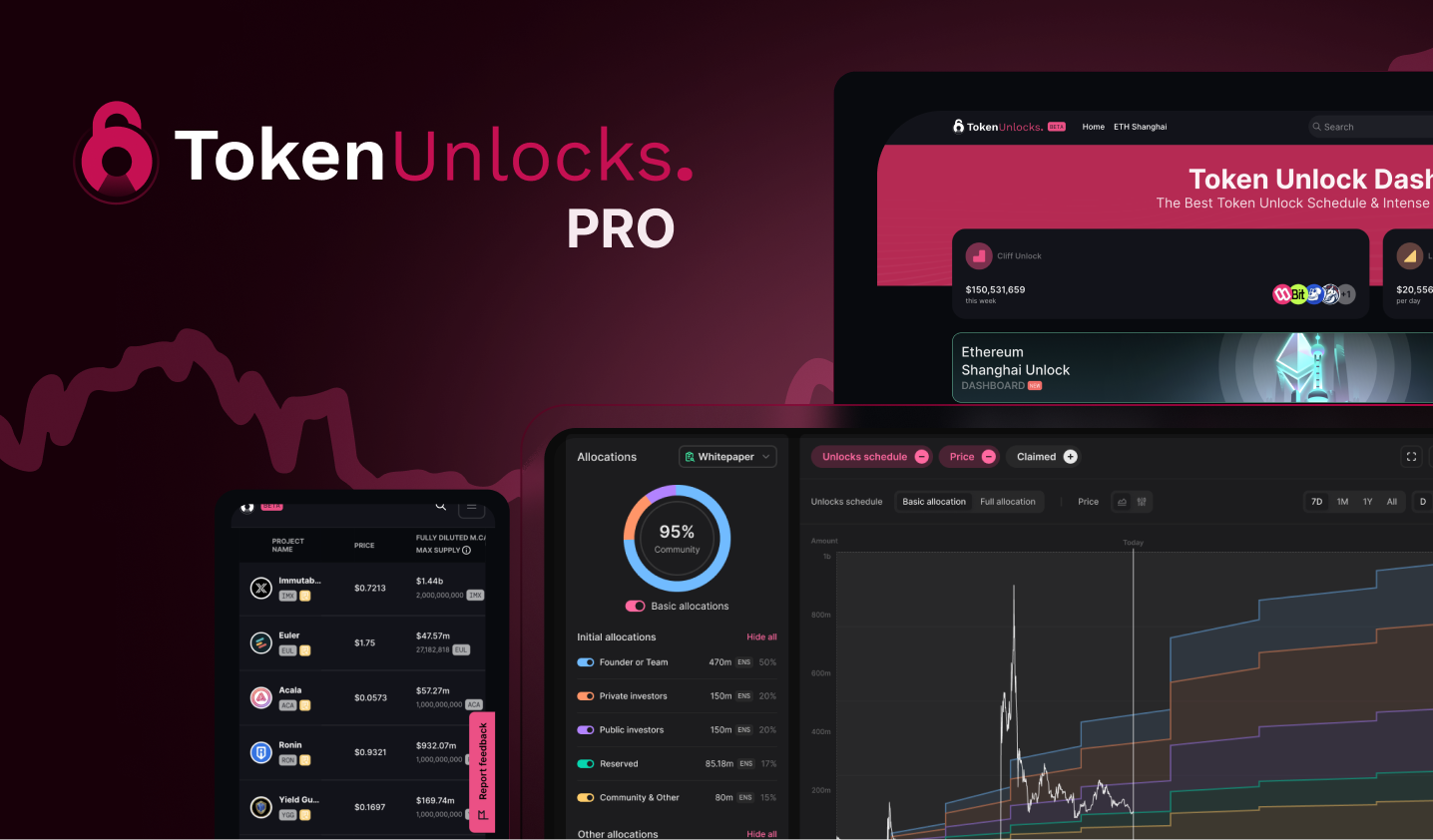 💡
TLDR; Join us our user interview for free access to pro, limited seat!
At TokenUnlocks, we're on a mission to make crypto data easy and accessible.
We're currently enhancing our platform and are seeking your valuable insights. By participating in our product interview for our forthcoming TokenUnlocks PRO, you can play a crucial role in shaping the future of crypto data with exclusively free access to beta test the product.
The continuous evolution of the blockchain industry, propelled by an open-source environment, introduces new projects and tokens daily. However, this dynamism also generates unstructured, non-standardized data, posing challenges for participants striving to stay informed and conduct efficient research.
TokenUnlocks is committed to resolving this issue. We're simplifying the crypto exploration process, striving to make the ecosystem more transparent, user-friendly, and approachable. Our goal is to provide clear and fair comparisons between crypto projects, thus removing the confusion that often clouds the blockchain and cryptocurrency space.
Join us on this journey. Your participation will not only help shape a product that could redefine the standards for crypto data but also assist in safely onboarding the next billion users into this exciting space. Let's make crypto data simpler and more accessible together 🚀
What's for TokenUnlocks PRO?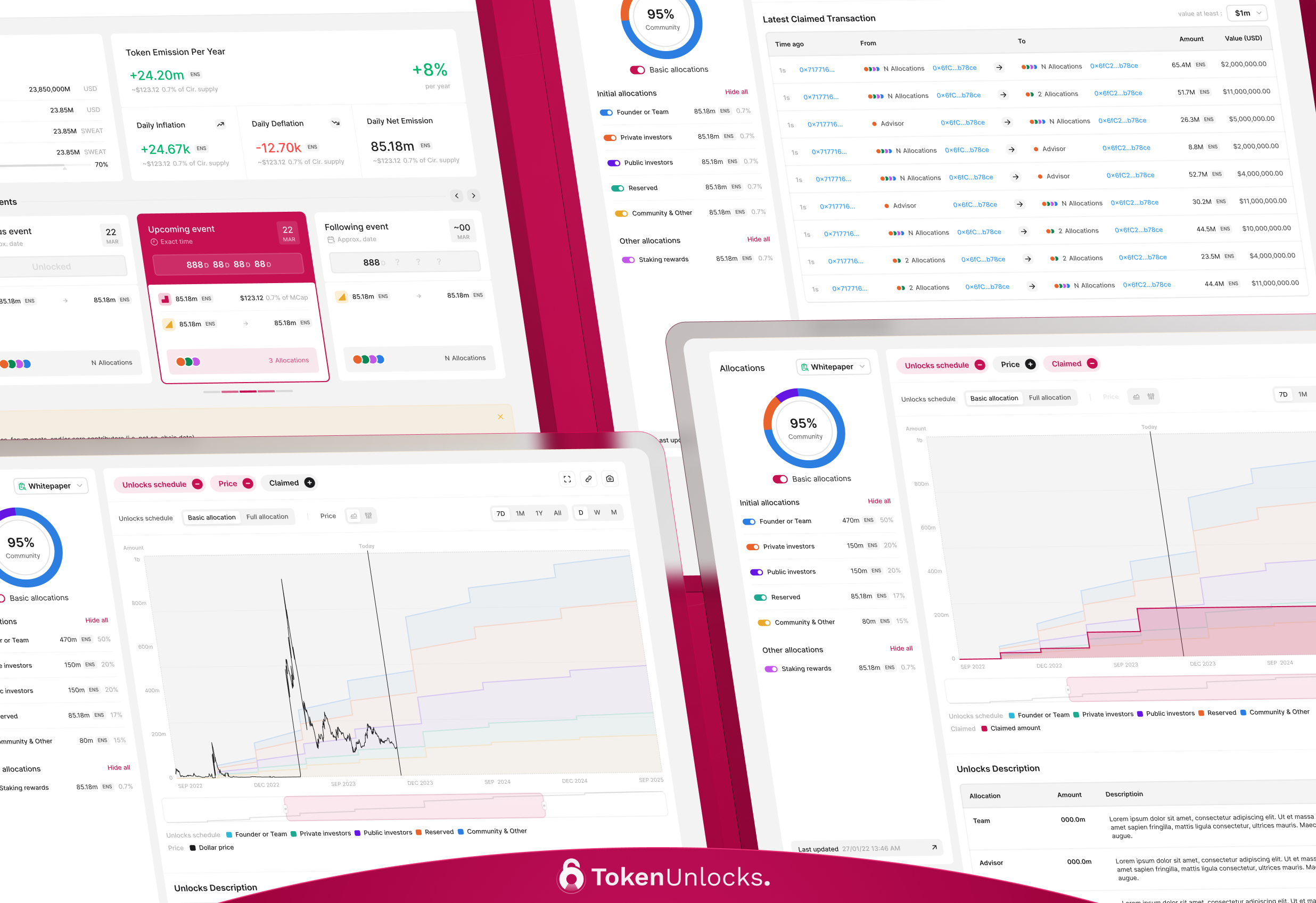 We've been devoted to demystifying the complexities of token unlocks and tokenomics data. Our efforts have focused on five critical elements:  What tokens amount to be unlocked is, Who the recipients are, Where the unlocks taking place, When will the token unlocks, and How the distribution are.
Our current platform, token.unlocks.app, simplifies those elements quite well, in response, we have received tremendous support and valuable feedback. Now, we are thrilled to announce the next stage of our journey - the introduction of Token Unlocks PRO.
Token Unlocks PRO is designed to offer a more detailed insight into on-chain activities. It provides users with enhanced tools to study tokenomics, such as emission, allocation, and price impact.
Here are some of the standout features, among many others, that you can expect from Token Unlocks PRO:
Advanced charting: This feature allows users to analyze the price impact of token unlocks and conduct in-depth research.
On-chain unlock and claim actions: Gain more clarity about unlock behavior with more detailed on-chain data.
Token emission and burning: Understand the lifecycle of tokens in depth, from their creation (emission) to their removal from circulation (burning).
Comparison tool: Effortlessly compare multiple projects at once, saving you time and making your research more effective.
Experience the next level of crypto research with Token Unlocks PRO, your tool for deeper insights and confident navigation in the crypto world.
Your input is valuable to our growth
We are inviting you to contribute and get free early access to PRO by:
Participating in a 45-minute interview to share your feedback and experiences.
In return, enjoying three months of free access to TokenUnlocks PRO and an early access to our product.
Fill the form below to get started:
We'll reach out to you shortly. Your insights are critical in shaping the future of Token Unlocks PRO. Make your opinion count!
Contact: info@token.unlocks.app
Twitter: https://twitter.com/Token_Unlocks